Ron Boat
Video Producer | Director | Writer
Producer / Director
Having produced and directed for some of the largest companies in the world,  I bring 53 years of production experience to bear on your project's various activities.
I'd like to put my experience and 4.9 Google rating to work to your project's success.
Writer
In my dual efforts of production and writing, I've written scripts for corporate marketing and training, and for the last 14 years, I've been writing Op-Ed pieces and doing interviews with some of the top military, intelligence, political, and business leaders in the world.
Planning
It's important to define your target audience and true objectives.
Communication
I insist on it. It's paramount to the success of your project.
Options
I review all the tools available to create an effective project.
Execution
Work with professionals that care as much as you do in your efforts.
Successful projects, whether a video, a website, brochure, or event, do not happen by chance. There's a process. And from my 50+ years of production, I've developed a checklist that guides me and my clients to a more rewarding relationship and efficient outcome for the time and money they're investing.
"There is no substitute for advance planning."

1. Who is your audience?
You have to define your true audience because age, geographic area, need, income levels, etc. matter. You must make sure your customer/client needs your service or product; can they get it where they're located; can they afford it, and do they already have one or a competitor's version? Without an understanding of the basics of your audience, you're selling great, juicy steaks to vegans.
2. What are you doing to your audience?
You need to decide what are you trying to accomplish with your project? Are you selling a product or service? Do you want to inform about an event or sale? Are you trying to educate about a new product? You must know what you're trying to do or you'll never do it.
3. What do you want your audience to do?
Do you want people to buy something? You'd better have a call to action to get them involved. Do you want them to respond via a phone call or email? You need to make it easy for them. Do you want them to interact with others to achieve your goals? You must know your objectives.
4. Budget accurately.
When you're planning your project, take into account the cost of working with real professionals, not young people working cheap to get into the industry. Any responsible production group should never be required, or able, to throw out quick estimates – it's not possible. One asks "How much to build a house?" A lot of moving parts. How big, how many floors, carpet or tile, gold fixtures or chrome, block or frame. A true professional group will ask a lot of questions to find out what you're expecting. I DO NOT budget low to get a project nor do I budget high to cover myself. It's not the way I do business.
5. Work closely and wisely.
You're hiring a professional. Let them do their job. I know to ask a lot of questions – sometimes more than anyone – as I need to know you, your business, your industry, your expectations. I want to communicate all the way through, working closely with the decision-makers. HOWEVER, remember that a "camel is a horse designed by a committee." Assign one person as the lead on your project who can give good input and make quick, correct decisions.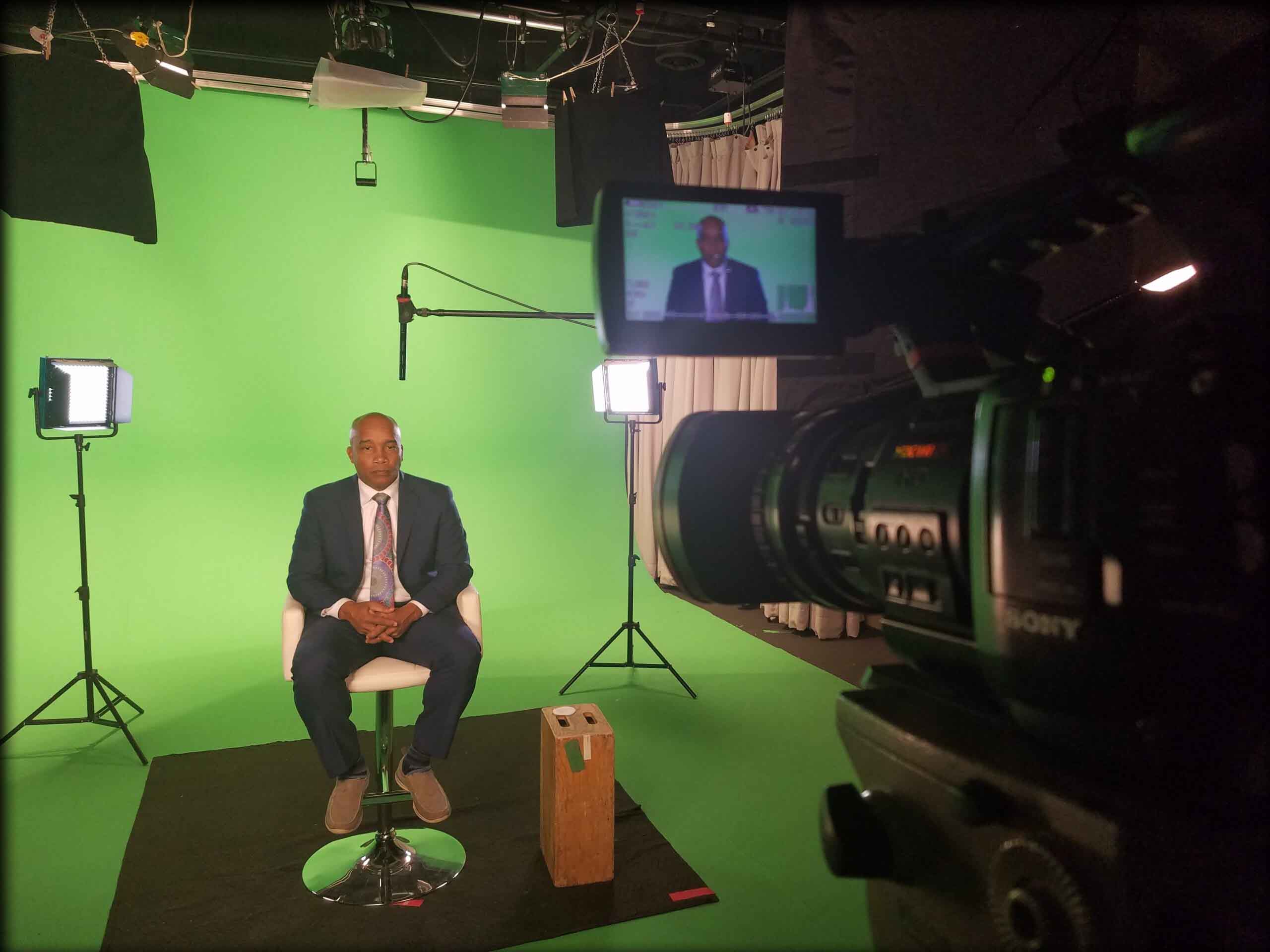 There are times in life when work becomes a passion, and I've enjoyed my time with such great clients and terrific crews around this country. From San Diego, Los Angeles, San Francisco to Minneapolis, Hartford, Atlanta, Las Vegas, Dallas, Vancouver BC and Miami: It's a thrill for me to create great, successful, client-pleasing productions.
From a single camera to high-speed shoots at 17,000 frames per second; to multi-camera live events and broadcasting surgeries – the projects have been varied, interesting, and fun.
Besides videos, it's great to work on websites for some unique groups like UnitedHealth, an Alaskan resort, a French nuclear group, and an Italian development company. Add to these the many print, translation, and multimedia opportunities and it's been a great run.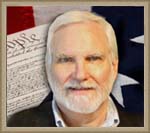 I'd love to work with you and see what we can accomplish together. CLICK TO BOOK AN APPOINTMENT WITH ME!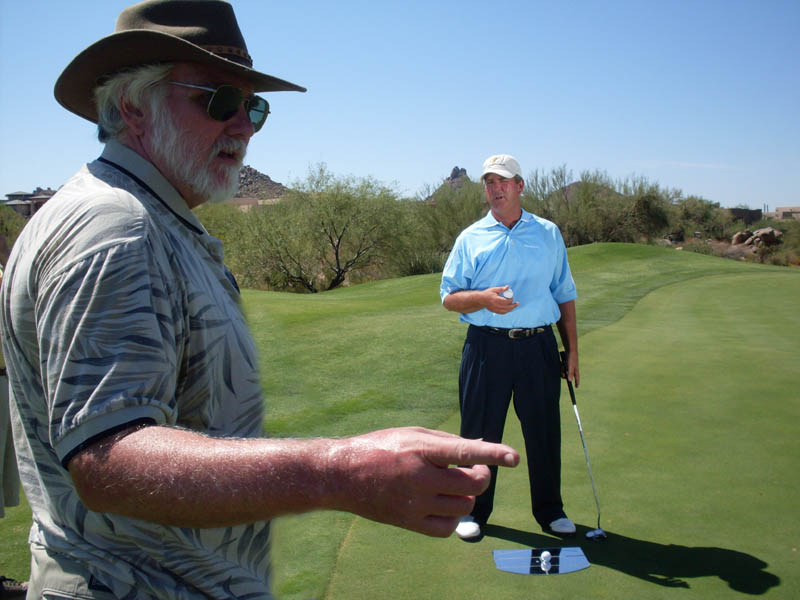 Ron w/ Purtzer
Over the years we're been privileged to work with many professionals – and this includes golf. Tom is one of the best and the nicest guy.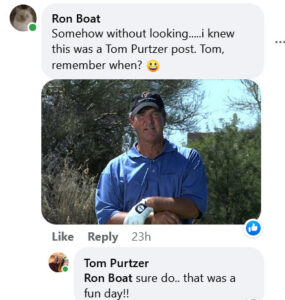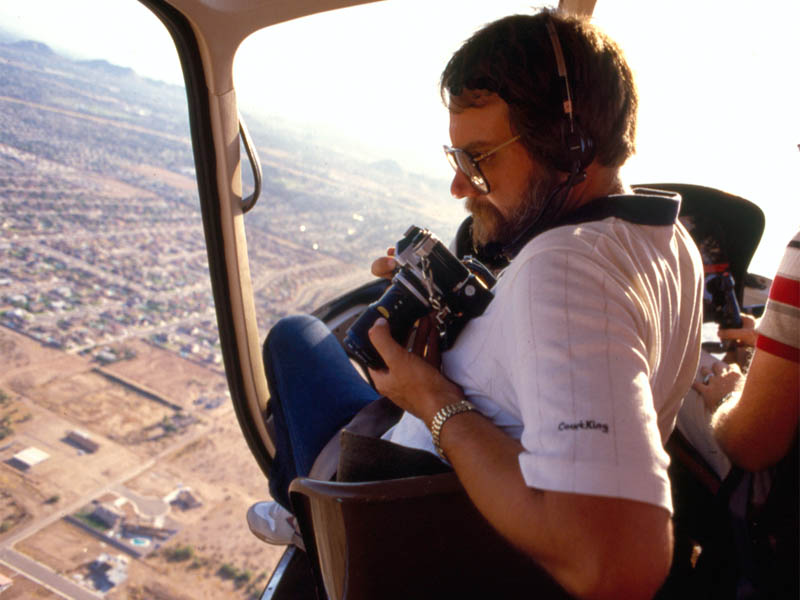 Shooting aerials
There are times when still photography adds to a project. This was from a project for our talented Norwegian client's building, the Gateway Center in Phoenix.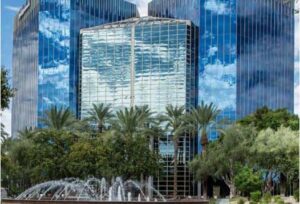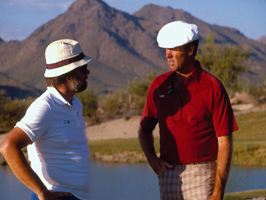 Ron w/ Weiskopf
On the course again, this time with a terrific golfer, Tom Weiskopf. Such a wonderful guy and a golfer that rivals the best. What a shoot with Tom and his amazing game.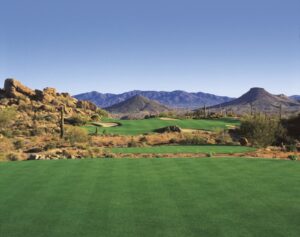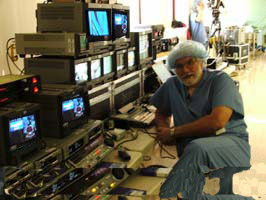 Directing Surgery
Broadcasting surgeries live is part of our remote production work. Ron directed this multi-camera broadcast from the LA Medical Center. Next: The Hoag Institute.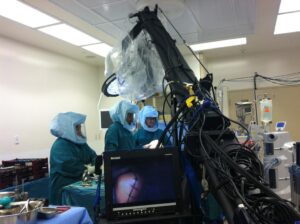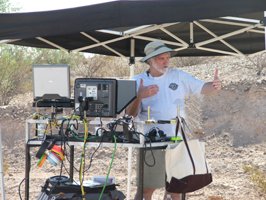 High Speed Video
This shoot found Ron directing a high speed Phantom camera shoot at 17,000 frames per second. Our goal: to capture a .50 cal bullet hitting its distant target.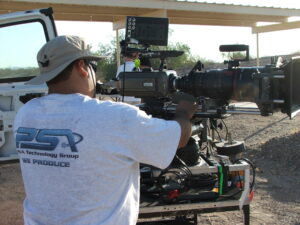 About Me
I love creativity. Seeing things that excite and stimulate. Things that can move people to do things and keep them engaged at the same time.
I started music studies when I was 5, and throughout grade school, high school, college, and the U.S. Naval Academy and U.S. Army Band spent my time studying and performing music. That, along with my engineering and acoustics studies at A.S.U. combined to give me insight and a passion for technology combined with the creative.
I love working with terrific people, and keeping a positive outlook while being productive in this great country of opportunity and freedom.
"If the Grand Canyon, Yellowstone and Yosemite are the "gems" of our National Park system, Production Services is the gem of this industry. I have worked with many companies in this field over a 50 year career and this company is without equal in every respect. Talented, creative, friendly, open-minded, timely, very competitive pricing….superior in every respect."
Tom De Paolo
Head of U.S. Operations
Stilo Development Group USA
Milan, Italy
"Ron and his team were terrific to work with. They were on-site and ready to go and help us finalize the set up on site. Thank you! "
Jill Henry
Senior Events Manager
US Holocaust Memorial Museum
Washington, DC
My Valued Clients Have Said:
"Our Goal: Distribute CDs to sportswriters around the country… The Outcome: A very happy, satisfied client. You made us look good Ron. We believe your contribution helped our very own Amare Stoudemire win the NBA Rookie of the Year Award. Thank You!"
Susan Ulrich
Director of Marketing
Phoenix Suns
"I just wanted to take the time to express my sincerest thanks to you and every-one who helped put together our video presentation. We asked for the impossible and your company delivered. Ron worked extremely hard to execute a quality and professional show. The presentation you created for Intel was well-received… and will be used as a successful marketing tool."
Linda York
Marketing Communications
Intel Corporation
"Ron, thank you so very much for your participation and assistance in making the inaugural Fiesta Bowl the great success that it was…. As a result of your efforts, The Fiesta Bowl is well ahead of schedule in establishing itself as one of the truly outstanding post-season events."
Ray Cox
Vice President
Combined Communications Corp.
Fiesta Bowl Committee
Available Professional Services
Video Production
There's not a more efficient marketing tool than video. 500+ HOURS of video are uploaded on Youtube EVERY MINUTE. We watch over 1 billion hours of YouTube videos a day. Videos work. Whether on location or in the studio I'd like to produce one for you.
More Details
I've worked hard for my clients to produced projects with creativity while doing so with great concern for timing and budgets. Video is useful for so many purposes including marketing and special promotions; new product/service introductions; employee recruiting, hiring, training, and communication; improving client and customer relations, fundraising, and more.
Webcasting
Webcasts are a growing tool for communicating with clients, customers, and employees worldwide. It reduces travel costs, reaches additional people, and provides for very creative options saving you time and money.
More Details
Webcasts have advanced from the early days and can take advantage of many creative options. On location in your offices or walking your facility, or in the studio making full use of green screen technology. added remote capabilities and enhanced audio and video techniques. Like any project, there is no substitute for advance planning.
Project Manager
When it comes time to produce a video, a printed campaign, a website, or an event, there's one position that requires experience. Who's leading the team. Having spearheaded teams of people in multiple locations for production is a part of the challenge.
More Details
Being the production manager on an important project means you're responsible for people and resources – all of which are costing hundreds or thousands of dollars an hour. As the VP of Marketing for America's largest homebuilder has said: "His organizational skills are impeccable and he kept the projects rolling along in a timely manner."
Don't Wait Any Longer. Let's Start Forging Our Productive Relationship!
                This site is protected by reCAPTCHA and the Google Privacy Policy and Terms of Service apply.