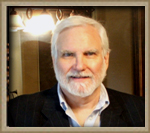 Clients are the reason we're in business. I'm so appreciative of the opportunities to serve some great companies. The list below represents the major clients I've served across Arizona, America and beyond since 1971.      Ron's Resume
USABasketball.com
HEAD Sports
The Phoenix Suns
Jack Nicklaus
Tom Weiskopf
Tom Purtzer
Jerry Colangelo
Sweet Adelines Int'l
Penn Tennis Products
Coleman Fleetwood
Hartford Insurance
Fiesta Bowl
Boys & Girls Clubs
Cramer-Krasselt
Atronic/Germany
Arizona Clean Fuels
Wells Fargo
Pinnacle of Sports
Greyhound Corp.
Reinke Mfg. Co
KareMore Int'l
Toyota
California Car Duster
EKCO Housewares
Monster.com
Legacy Distributing / UK
API – Poynter
KDS Monitors
BPI
ROLF'S Int'l
Talbert Group
Wine Heretic
Adolph Coors
CableONE.net
Omega Media Group
Aaron Rents
Gunsite Academy
Standard Publishing
WND.com
Wal-Mart
CADDO Mountain Spring Water
Sedona Bottling Company
Mountain Valley Spring Water
World's Best Connectors
AZWebcasting
World's Best Connectors
HealthSouth
Phoenix Baptist Hospital
Smith & Nephew
United Health -APIPA
Zimmer, Inc
John C. Lincoln Hospitals
Wright Medical
Johnson & Johnson
Alimera Pharmaceuticals
Iasis – HealthChoice
Gore Medical
SCB MedWire
St. Joseph's Hospital
OR-Live.com
Herbalife
DePuy
Omega Media Group
Phoenix Memorial Hospital
Thin Fast Assist
Primus Pharmaceuticals
pSivida Pharmaceuticals
Phoenix Health Plan
Abrazo Healthcare
St. Luke's Hospital
Care 1st
Ethicon
Resorts / Hospitality / Specialty / Misc.

Club Med / Worldwide
ATMI / Worldwide
Zyndio Travel
Desert Highlands
Royal Inns
Universal Studios
AVON
Coleman/Fleetwood
Crowne Plaza Hotels
Troon Golf
MGM Grand Hotel
ATN
Best Western Hotels
Ramada Inns
PhoenixTechnology Group
Western Asset Protection
Developers / Construction
Club Med
APS
Stilo / Italy
AREVA / France
City of Phoenix
Coldwell Banker
Stanley Consultants
Desert Highlands
Media Architects
Stantec
Maricopa County
Angenus /Norway
Del E. Webb
Troon Golf
Hunt Construction
ABENGOA / Spain
Kiewit Western
Maxim Crane
D.R. Horton
Coe &  Van Loo
Arcosanti Foundation
Morse Consulting
Opus Southwest
Linpro / Philadelphia
SunCityWest
Val Vista Lakes
U.S. Air Force
Northrop Grumman
U.S. Holocaust Memorial Museum
OAS (Org. of American States)
Saudi Arabian Air Force
Dept. of Defense
APS
City of Phoenix
AZ Dept. of Education
John Mitchell & Assoc.
Rural Metro
US Geological Survey
Arizona State Univ.
Arizona D.O.T.
Swift Transportation
Joseph Morgan for Congress
I'm grateful for the crews I've worked with that allow me to do such an awesome job for our clients. It's the combined dedication that encourages our clients to send us their words and we appreciate hearing from them. I hope this guides you to a level of confidence that allows us to work together.


 earned through our hard work for our clients. Thank you.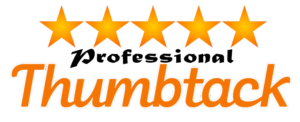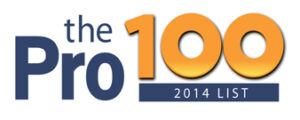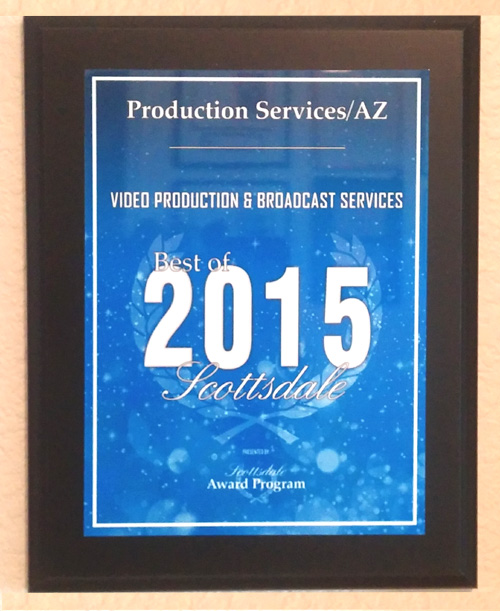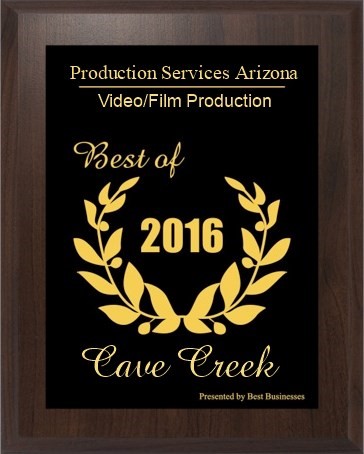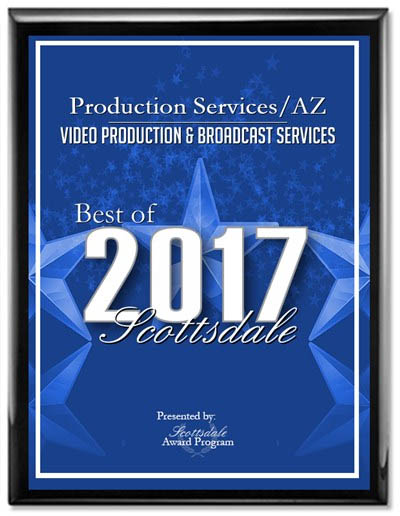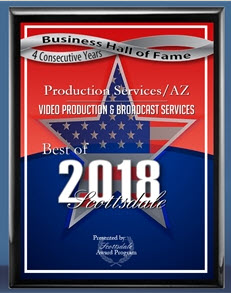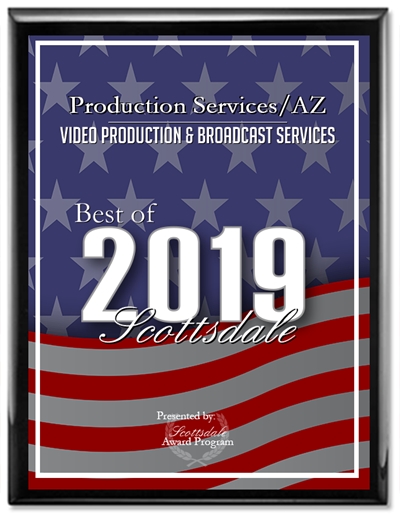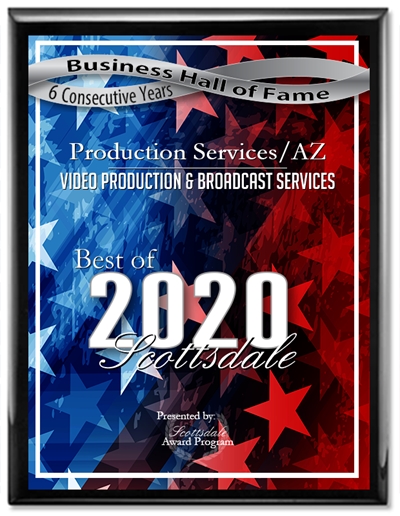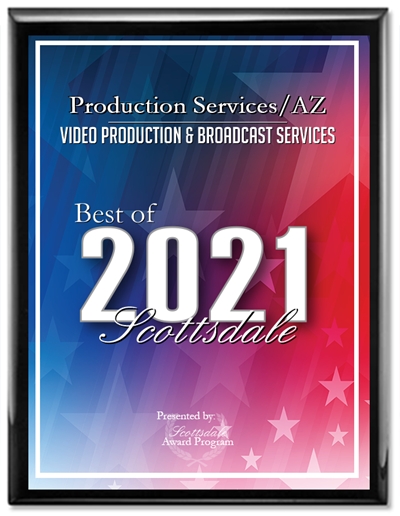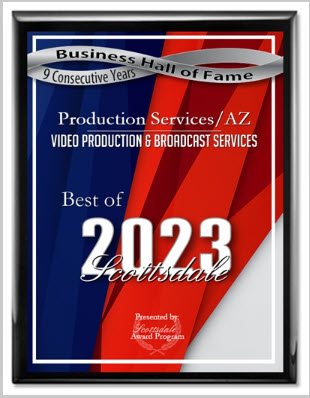 "I just wanted to take the time to express my sincerest thanks to you and every-one who helped put together our video presentation. We asked for the impossible and your company delivered. Ron worked extremely hard to execute a quality and professional show. The presentation you created for Intel was well-received… and will be used as a successful marketing tool."
"Our Goal: Distribute CDs to sportswriters around the country… The Outcome: A very happy, satisfied client. You made us look good Ron. We believe your contribution helped our very own Amare Stoudemire win the NBA Rookie of the Year Award. Thank You!"
"I wanted to take this opportunity to express our appreciation for the efforts put forth by you and your staff to produce our campaign video. Our goal of $8,000,000 to date – – – well ahead of schedule. Your bidding process was complete and while you were not the lowest, we anticipated from your past productions and professional nature that you would give us the best product – you did not let us down.
…it was the viewing of the video that prompted one couple to increase their contribution to $500,000. The Director's Dinner was well staged and we enjoyed working with you."
"If the Grand Canyon, Yellowstone and Yosemite are the "gems" of our National Park system, Production Services is the gem of this industry. I have worked with many companies in this field over a 50 year career and this company is without equal in every respect. Talented, creative, friendly, open-minded, timely, very competitive pricing….superior in every respect."
"I want to thank everyone for all their hard work in producing a phenomenally successful Sub-Vastus Knee webcast this past Tuesday. From the extremely friendly and cooperative staff at both TOI and El Dorado Hospital, to Ron Boat and his awesome Production Services/AZ video production team, it was truly a pleasure working with you all on this project."
"Our intricate and complicated nuclear training programs were needed quickly and yet with concise, specific goals in mind. Over the years you've succeeded every time and our industry conference reports were well received. Thanks for a great quality job one more time."
"Production Services is BroadcastMed/OR-Live's go-to resource in the Southwest. Always dependable, always imaginative, we rely on their professionalism and experience to bring out the very best in our programming. A long-time partner in our live event production of sensitive surgical cases, Production Services has repeatedly demonstrated their flexibility in helping us to develop and produce a broad range of video-based content. If you want a first-rate production, and you like to laugh a little bit along the way, this group is a can't miss choice."
"Ron, thank you so very much for your participation and assistance in making the inaugural Fiesta Bowl the great success that it was…. As a result of your efforts, The Fiesta Bowl is well ahead of schedule in establishing itself as one of the truly outstanding post-season events."
"I am extremely grateful and appreciative to you and your video crew regarding the work you are doing for this Phoenix press conference. Your professionalism is impressive indeed. Ron, please do know this, when in the future we do event coverage in Phoenix, California, or anywhere in your region, you will be the first production company we call.."
"Ron and the team at Production Services provided my company (ATMI) excellent service and support for multiple projects. Our needs spanned simple, internal training videos to high-production-value marketing materials using high-speed cameras and specialized photography. It is great to have a service provider that takes ownership as a "partner" and delivers on their promises of quality and professionalism. Production Services will help manage the overall process from start to finish and do it at a reasonable price. I highly recommend their services!."
"I had the pleasure of working with Mr. Ron Boat and his company, PS/A on several very important projects… in all stages of these projects Ron demonstrated great creativity, promptness, professionalism and delivery of materials when promised. His organizational skills are impeccable and he kept the projects rolling along in a timely manner. He has proven to be a valuable asset to my company"