Ron Boat
Producer | Director
Doing what I love – Producing
Hi, I'm Ron and for 52+ years I've loved working with the best crews while serving the best clients from around North America & the world.
​Creativity starts and develops in many forms. Mine started at age 5 with piano lessons and then at age 6 when I added trumpet. This musical talent was developed through grade school, high school (winning the Master Musician Award), and into college having received three college scholarships for music: Glendale College, Arizona State University, and New Mexico State University.
During high school, my attention to detail and interest in technology developed through four years of studying math; algebra, geometry, trigonometry, and the sciences; Earth and Space sciences, biology, chemistry and physics. At A.S.U. this continued with the goal of a degree in Electrical Engineering and Acoustics. After  Arizona State, I entered the service where I graduated from the U.S. Naval Academy School of Music and served 3  1/2 years with the US Army Military Intelligence Corps Band.  It was the combining of these two diverse regimens that led to the development of my lifelong production activities and my company Production Services/AZ.  ~  My Resume
More Bio
My professional career again combined both areas of interest having musical groups that performed both at local and national events and with work on the production team of the first Fiesta Bowl in 1971. My Phoenix-based band played intro shows for such acts as Bob Hope, The Righteous Brothers, Ink Spots, Andy Williams, Henry Mancini, the Flying Wallendas, and others. Soon I was producing both music and comedy concerts with acts such as Second City comedy groups and Andy Kaufman. I  developed and produced musical concerts to be used as promotional events with such renowned musicians as Oscar Peterson, Joe Sample,  Kenny Burrell, Bud Shank, Buddy Collette, and Lorez Alexandria with my producing and L.A. studio partner Bobby Bryant. During the mid 70's, I would attend movie, record and commercial recording sessions with Bobby and learned audio production in the control rooms. This knowledge base led me to open Sandstone Studios in Phoenix in '77 and Celebrity Sound in L.A. with Bobby in '80, being both business partner and audio engineer.
My production company, Production Services/AZ continued its growth in Phoenix and did audio recordings of such musicians as Jackson Browne & the Group, Stephen Stills, Tom Rush, Ronee Blakley, Dave Liebman, Paul Winter Consort, and others. During this time, the expansion of the video and marketing aspects of PS/A grew. I served as the lead for PS/A's many clients and activities that would grow to include that of producer, director, copy/scriptwriter, project manager, cameraman, client liaison, creative director, editor, sound engineer, and gopher.
In '75, PS/A became the agency of record for Aaron Rents Furniture out of Atlanta, and California Design Centers in San Diego. Other accounts were added but the love of production was what kept my interest. I expanded our list of local, national and international clients and still served them with an even wider list of services. Those services include video production, multimedia, websites, animation, graphics, and more.
My passion and direction has always been to provide a full-service production approach offering all areas of production in order to fully serve the clients. And my choice of this working concept was to work with some of the best people around having feature film, network, and executive corporate experience in their fields of expertise while keeping overhead low and passing the savings on to my clients. I've directed or produced shows for Naomi Judd, Carnie Wilson, Jimmy Connors, pro golfers Jack Nicklaus, Tom Weiskopf, and Tom Purtzer, Phoenix Suns' Jerry Colangelo, Paint Jam's Dan Dunn, as well as national and international corporate clients.
While the majority of my career has been in production, I concurrently dedicated 20 years of time to the food industry having owned three restaurants and a food manufacturing /marketing company.
Currently, I'm concentrating on just a few clients with larger projects in order to dedicate the time and attention they deserve. I'd be happy to consider your project as well.
Affiliations:
Phi Mu Alpha Sinfonia
American Radio and Relay League
WA7CAO – General Class  FCC Radio Operator's license
Honesty
It's always been my desire to deal honestly with my clients. It's their money, time, and investment. My personal dictate: to serve their needs openly and honestly – no games, no hidden costs or agendas.
Openness
Communication is the key to any relationship – especially business. it eliminates misunderstanding and confusion – it's the only way I can work. the only way true business really works.
Reasonable Pricing Fairness
We all know that you can't build a 3 story, 32 room mansion for $20,000; Same goes for production. There are reasonable costs associated with using great equipment and experienced, quality people. Especially ones who will care and work extra hard.
There's an old saying: "If you want nice, clean, white oats, you have to pay the price. If you want those that have already gone through the horse… they're a little cheaper."
Caring Concerned Follow Up
After the dance is over, I always feel the need to follow up to ensure the project went well, things are working and our relationship is solid.
It's my attitude toward superior customer service that has garnered my much appreciated: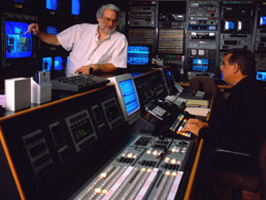 Producer / Director
As the Producer/ Director, Ron is involved in all studio productions.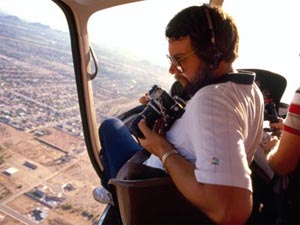 Aerial Photo Work
Ron even takes an active roll in still camera work at 8,000 feet.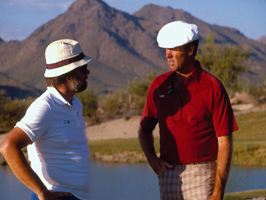 Client Interaction
Ron's hands-on style involves him with pro-golfer, Tom Weiskopf.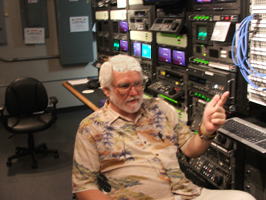 Technically Aware
Ron's background involved studies in engineering and it adds to the project.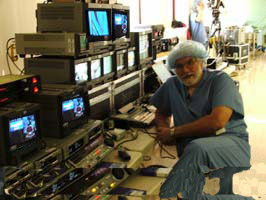 Medical Productions
Directing medical broadcasts is part of his background for major clients.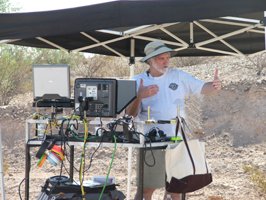 Specialized Productions
Working on varied projects for high speed video at 17,000 FPS.
It's simple.
Let's talk. See what you need, see what you expect.
Let's make a plan. Figure out how to realistically get to your end result.
Let's review. Confirming how we're proceeding and making progress.
Let's document we're heading in the right direction.
Let's confirm we've made it to the end, met your expectations and everything is as you want it.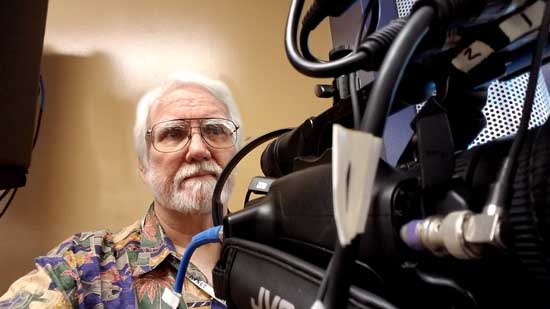 Whether it's from the Orpheum Theater in Phoenix, AZ;  a surgery suite in Irvine, CA;  the Monument in Rapid City, SD; or a hotel ballroom in Baltimore, MD., webcasts are the tool of the savvy, smart enough to use them. Worldwide broadcasting is easily available to the everyday corporate exec who wants to reach his customers or employees.
I've been producing flawless webcasts for a variety of clients both from our studio in Phoenix and various facilities, to locations around the world. A lot of planning that goes into each one, but my experience in producing them helps to ensure that your message goes out.
We're simply efficient in using webcasts to:
Reach out to new customers
Introduce new products or services to your dealer network
Train employees on new products or techniques
Market to the world with your broadcast about that special corporate announcement
Let the company's President, CEO, CFO, and others deliver that annual report and update
Craft your broadcast as an industry report to your peers
Broadcast your special promotion with special weblink connections, exciting graphics, live, "real time" viewer interaction, and more
Broadcast from our studios, your offices, your manufacturing facility, or a special venue
There are times that a more complex project encompasses many simultaneous locations, several groups of crews, and varied operations such as documentation, 2nd units, broadcasting etc.
This starts to require a project manager who is efficient at handling several things at once and is not distracted by trying to also be a director, cameraman, or other capacity.
Simple organization:
Multiple locations requiring constant contact and decisions
Large crews requiring oversight
A webcast at the same time as roving cameras and audio needs
Client interaction required during general production activities
2 or 3 crew locations requiring back and forth oversight
Remote communication via phone, radio, comms, or computer, while also overseeing graphics, cameras, set changes, talent & client needs, and other activities.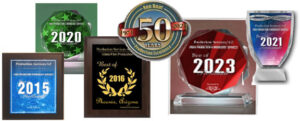 These represent just a few videos from over time related to different industries and situations. Much of what I've done is proprietary to industry reporting and not available for public viewing. Some of these are general pieces of projects or marketing pieces.
Every project is unique to the client and the final outcome is based on what the client wanted, his direction and input and of course the time and budget allowed.
Much of my work as cameraman, writer and other duties is done personally, while full productions for national and international clients is done through my production group, Production Services/AZ –   My Resume
My responsibilities and experiences on projects from decades of work are outlined below:
Producer
The producer's responsibilities are varied and important. It's the producer who, after extensive interaction with the client, pulls together the appropriate team of professionals to accomplish the goals of the project. He selects and coordinates the various locations that might be required. He selects the best camera operators, location and post audio engineers, lighting director, editor, broadcast and/or webcast engineers, grips and gaffers, electricians, graphics designer, still photographer, travel or transportation team, and any special people or services needed for the project.
Every project seen on this site, and more, are the direct result of my producing activities and those of a great team of creative & technical crew members.
Director
The project's director is the on-location point of contact and control. He finalizes locations and crew and, along with the Director of Photography (DP), sets up every shot, every angle and confirms the right lighting for the script. He arranges shooting schedules and works with the crew assignments to maintain budget and completion guidelines. In a live broadcast scenario, he "calls the show" directing each of multiple camera shots while the technical director actually "switches" the show, and he directs audio and video engineers to make the show complete.
It's the director's responsibility to work with the editor to assemble the project into a final creative and cohesive form that meets the requirements of the client and matches the venue for the product be it a DVD, the web, YouTube, or other  various presentation platforms.
Writer
It's been said, and it's true, that the script is the "blueprint" for the project. As a writer, it's my responsibility to work closely and often with the client; to understand his true need and expectation; to convey the message of the project. Whether it's a marketing piece for specific new products or services like HEAD Sports, or ongoing campaigns for corporate image like DR Horton, or a training piece for employees like ATMI, there are standards to be met. If the script is wrong or poorly written, the message is either lost in overproduction or just plain missing. The right words, the right flow and flourishes, the correct factual information are all required to meet the needs of the project. No writer's ego, just a desire to complete the proper, salient tasks at hand.
Project Manager
There are times when coordinated oversight is required while not being assigned one of the specific jobs above. This position becomes a combination of coordinating the project and the various people assigned as the representative of the client. The project manager's knowledge of each  of the above positions is paramount to make sure the project is completed on time, on budget, and meets the requirements and expectations of the client.
Once the project is defined, pulling together qualified crews, correct and adequate equipment, shipping,  transportation, travel and housing arrangements, supplies and expendables, location particulars, insurances and permits when required, government and authority contacts, and all the last minute/emergency situations that can arise are under the purview of the Project Manager and his expertise.
Music Video – Promoting Freedom
This song was released in July of 2023 and we produced this video expressing the songwriter's (Sandy Frazier) fightback toward oppressive Covid restrictions.
HEAD Sports – New Product Release
Part 1 – Presentation opening to North American Dealer program
Part 2 – Special segment on  #1 tennis player in the world Novak Djokovic.
ATMI – High Tech
Part 1 – Short into to proprietary piece.
Part 2 – SDS packaging for volatile gases
Part 3 – BrightPak packaging for volatile liquids
Part 4 – High tech recovery process (Japenese version)
Framatome (Division of AREVA/France) Nuclear Training
Intro to proprietary training information for industry review.
Presentation for pharmaceutical company's introduction of new drug to FDA.
Don't Wait Any Longer. Let's Start Your Exciting Project Today!
               This site is protected by reCAPTCHA and the Google Privacy Policy and Terms of Service apply.